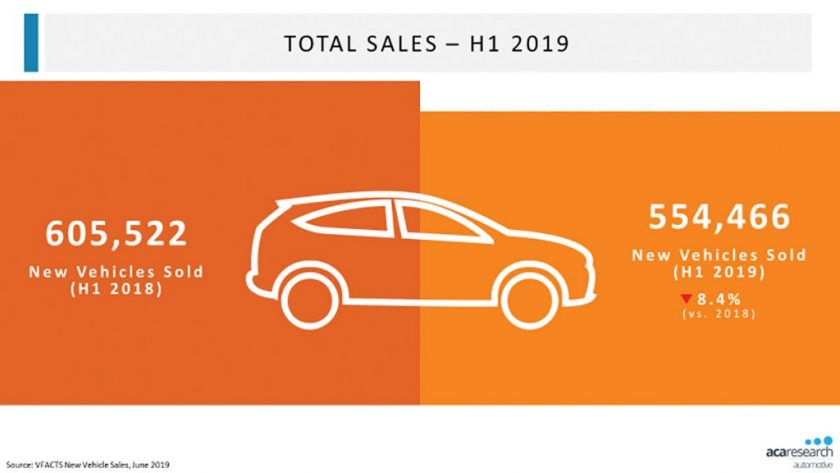 What New Car Sales Trends Mean for the Aftermarket
In this article, ACA Research takes a look at the new car sales market in Australia and what it means for the aftermarket
When writing about the Australian automotive aftermarket, there is often a focus on older or out-of-warranty vehicles, given these are the ones most likely to be taken to an independent workshop as opposed to a dealership.
With that said, changes to automotive finance and a challenging new vehicle sales environment does mean that we need to be conscious of trends in newer vehicles, as this will lead to marketplace changes that carry through to and impact the aftermarket. Given this, it's worth reflecting on the state of new car sales in the first half of 2019.
At an overall level, the market has contracted year on year, with 50,000 less vehicles sold compared to the first half of 2018. Lining this up with the changes to dealer financing that came into place in November 2018, it does mean that dealerships will increasingly be looking to build up their other revenue streams. 
For an independent workshop operator, this becomes particularly relevant when dealers start placing a greater focus on the used vehicle part of the business, as well as their after-sales engagement with customers.

Breaking these numbers out by vehicle type, we can see that while sales are down across the market, the numbers are again worst for passenger vehicles, with SUVs, light and heavy commercial vehicles remaining more in line with 2018. 
This again reflects the changing nature of the Australian car parc, with even more SUVs (such as the Citroen C5 AirCross) coming into the market through 2019. For a workshop this does however cut both ways, with the increasing number of brands in the SUV and light commercial space meaning that mechanics need to be trained on, and have the right diagnostic and servicing equipment to deal with this wider range of makes and models.

Another clear trend in the marketplace is around fuel type. While it will take time for this to have a significant impact on vehicle servicing , the growth in hybrid and electric vehicles continues. Sales of both almost doubled year on year (although we are still talking about a low base, with total sales making up just 2.5 percent of the Australian market), against dropping petrol and diesel sales. 
The key here is for workshop operators to have a clear understanding of their local car parc, and to be aware if they are in an area with higher rates of early adoption (typically urban centres). While this won't impact the business today, it will be a factor in the tools, equipment and training that need to be considered as we look to the future.

Looking at the most successful brands through the first half of this year, Toyota still reigns supreme. Despite also declining year on year, it continues to sell almost twice as many vehicles as Mazda in second place, and well over double any other single brand. 
When we look further down the list however, some clear winners emerge. Mitsubishi and Kia are the only two brands in the top 10 to outperform 2018 results, with their range well aligned to current tastes in the market. Looking to the longer term, this again helps us understand the type of vehicles that will be turning up in independent workshops in three to five years, with these two brands pushing to join Toyota, Mazda, Hyundai and Ford at the top of the list.
On the other side, while workshops will continue to see the many older Commodores on Australian roads, Holden's struggles are again reflected in the sales data, with newer vehicles still struggling to cut through.
Finally, we looked at the source of the vehicles sold in the first half of 2019. Reflecting the changes in the top 10, and given the continued strength of Toyota (alongside Mitsubishi's strong year) Japan's ongoing leadership in this space is unsurprising. The stat we're focussing on though is that we have now hit the absolute end of locally manufactured product, with just 43 Australian-made cars sold in the past six months as dealers clear the remains of the late-2017 Holdens in their yards.
In summary, workshop operators need to be conscious of the broader trends and changes in the market that will impact their business. Key to this is understanding their local car parc, how it has changed up until today, and what it might look like in the future. 
To support this process, ACA Research will soon be adding historical data to the AAAA local car parc tool, allowing members to see how the profile of their area has shifted over the past five years, and helping them make informed decisions about the changes that are needed in their workshop to cater to the needs of today's (and tomorrow's) customers.
This column was prepared for AAA Magazine by ACA Research, our partners in the AAAA Aftermarket Dashboard which is delivered to your inbox each quarter.
For more information, visit www.acaresearch.com.au or contact Ben Selwyn on bselwyn@acaresearch.com.au