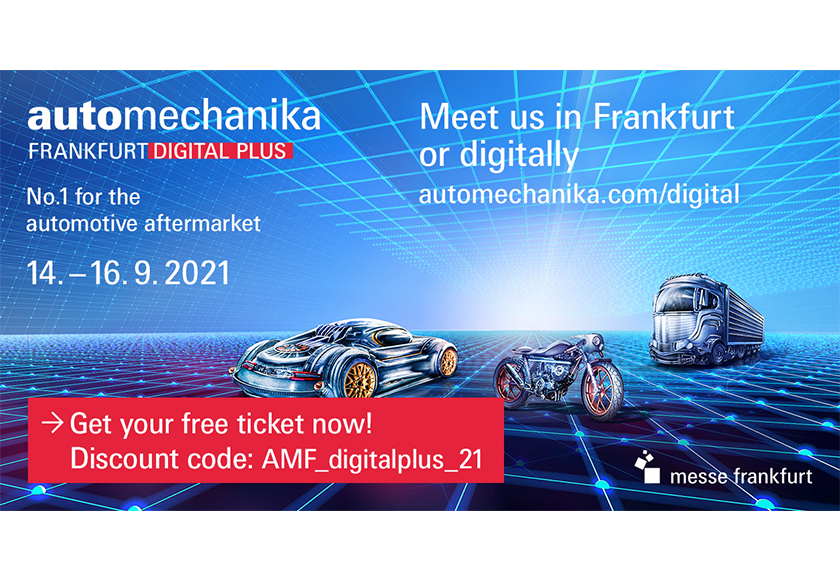 Automechanika Frankfurt Digital Plus begins on 14 September – live in Frankfurt & online
New products and trends, training and networking: Automechanika Frankfurt Digital Plus focuses on in-person encounters and digital networking.

Live in Frankfurt and online: The world's leading trade fair for the automotive service industry is taking place this year from 14 to 16 September 2021 in the 'Digital Plus' format. Automechanika will be combining a compact physical exhibition in Frankfurt with the opportunity to network and present companies digitally.
What are the topics and trends that matter most to the aftermarket today? What challenges will workshops face in future, such as from the increasingly rapid advance of alternative drive systems? Automechanika Frankfurt Digital Plus is taking place this year from 14 to 16 September 2021 in Frankfurt as a compact event tailored to the current situation. The concept includes a digital platform that allows even those exhibitors and visitors who are unable to travel to Frankfurt in person this year to participate in the event. Digital features provide additional presentation and networking opportunities while delivering international reach.

Participants can also look forward to an extensive supporting programme that will be streamed live in its entirety. Among the many forward-looking themes on offer: Future Mobility Workshop 4.0, Remanufacturing, Tomorrow's Service & Mobility, Electromobility, 3D-Printing, and Innovations in Car Wash and Care. For workshops, Collision talk, a variety of presentations on the workshop business, and workshops on accident repair management will be of particular interest. Solutions for tomorrow's mobility will be the focus at the new 'Future Mobility Park' – an innovative test and experience circuit located outdoors at the heart of the exhibition grounds.

Hypermotion, a platform for future mobility and logistics, is taking place directly alongside Automechanika Frankfurt. This will create valuable synergies for participants of both events, because this is the first time that users and developers from the fields of mobility and logistics are brought together here with players from the automotive aftermarket. There are a number of fascinating technological interfaces between these two events, including alternative drive systems, lightweight materials and construction, IoT systems, the creation and optimisation of resilient international supply chains, and many others.

More information at automechanika.com/frankfurt-21