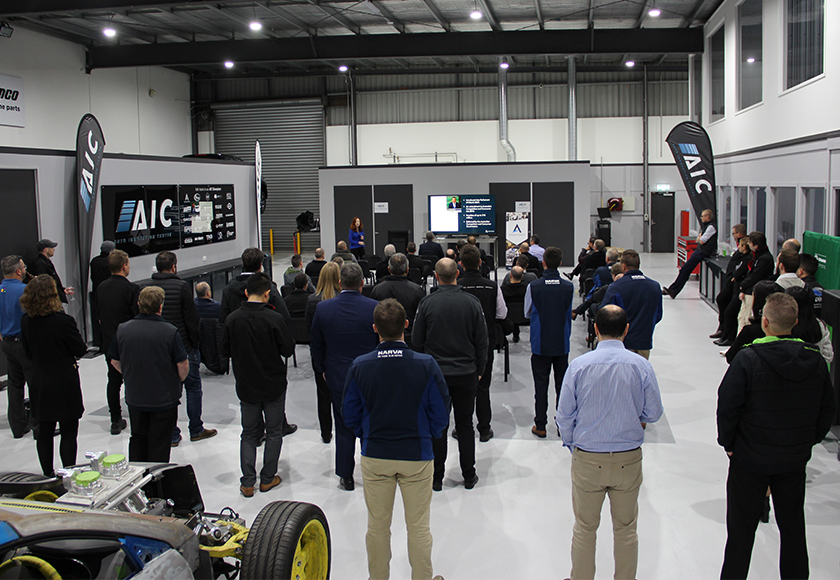 Celebrating and Networking at Victorian Member Evening
The Australian Automotive Aftermarket Association hosted it first face-to-face industry networking event in Melbourne for over 12 months on Tuesday 20th April, and the evening was a great success.
Over 70 members and their guests braved the cold and wet conditions to come together, share in the celebrations of the mandatory data sharing law being introduced to Parliament, and network with other members in the incredible AIC facility.
The formal part of the evening began with words from Stuart Charity, AAAA CEO. Stuart spoke of how proud he was of how the aftermarket industry has responded to the COVID-19 crisis, and has come out the other side stronger. Stuart also acknowledged and thanked Craig Ondarchie, Member for Northern Metropolitan Region, who attended the evening, for his unwavering support of the AAAA and the aftermarket industry over a long period.
The AAAA's Director of Government Relations & Advocacy, Lesley Yates provided an exclusive briefing on the recent exciting developments of the mandatory data sharing legislation now before Parliament and what it means for workshops and the whole auto aftermarket industry.
Craig Ondarchie also briefly spoke to the assembled crowd. Craig expressed his thoughts at the professional way the AAAA had campaigned, fought and worked to affect change for the industry.
"Changing legislation is the one of the hardest things to do. If you want a textbook on how an industry association should work, and represent their members, they should look no further than the AAAA. The AAAA brought their members to us, and convinced us that this law is a good thing to do. On behalf of Australian consumers, thank you for the tremendous work you have done in changing the landscape for Australia, and your members should be very proud. As members of AAAA, you have got significant value out of Lesley, Stuart and the AAAA team," said Craig Ondarchie.
With the networking event being hosted in the spectacular Auto Innovation Centre workshop, it was only fitting that Luke Truskinger, Managing Director of the AIC provided an update on the first year of the centre. Luke explained how the AIC is adapting to meet the needs of the diverse requirements of the automotive aftermarket sector, and of the new exciting service offerings that are in place and coming online to assist businesses with their product development.
The event was rounded out with additional time to enjoy some food and drink, and network, and the AAAA wishes to thank members for their attendance.
We look forward to further member networking events across the country, and will keep members informed on upcoming events.