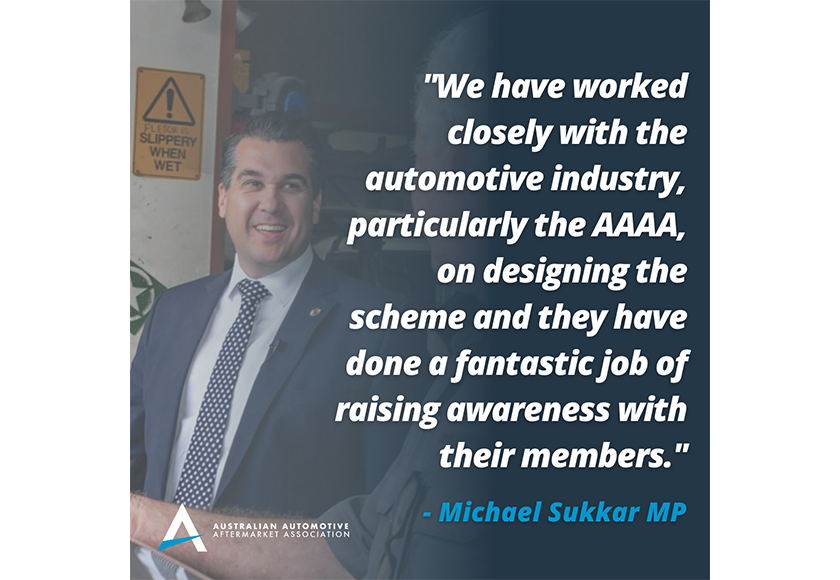 Federal Minister Acknowledges AAAA's Work Championing Mandatory Data Sharing and Its Support of Automotive Industry
Providing insight into the new Motor Vehicle Service and Repair Information Sharing Scheme and its importance for the Australian economy, Michael Sukkar MP has recognised AAAA's leading role championing the issue for the industry.
In an exclusive interview with the Australian Automotive Aftermarket Magazine, the Federal Assistant Treasurer has explained why there was a need for a law to protect Australian consumers rights to choose their repairer in a fair and competitive market. And that this fair and level playing field had to come from a law that ensured independent service and repair businesses could access service and repair information on fair and reasonable terms. The ground-breaking Law, that commences on 1 July 2022, provides a new dawn for independent repairers across the country.

"The scheme will benefit independent repairers by mandating the provision of accessible and affordable diagnostic, repair and servicing information so they can do their job safely and effectively. As the scheme rolls out, consumers will realise they have more options when they need to service and repair their car. This will promote competition, allow independent repairs to grow their businesses and establish a fair playing field for all repairers," said Michael Sukkar.
Along the journey to creating the law, Minister Sukkar regularly turned to the AAAA, knowing the Association had long championed for a mandatory data sharing law on behalf of its members and the broader industry. The AAAA was able to help the Minister by providing real life examples of anti-competitive behaviour and providing the Government with unique insights and advice. The Minister was appreciative of AAAA's unwavering determination to see the legislation drafted and passed by Parliament to become a new Australian Law.
"We have worked closely with the automotive industry, particularly the AAAA, on designing the scheme, and they have done a fantastic job of raising awareness with their members. In fact, we have already received more than 350 emails from independent repairers, many I believe are AAAA members, thanking the Morrison Government for implementing the scheme."
The full interview with Michael Sukkar MP is available on the Australian Automotive Aftermarket Magazine website:
A digital subscription to the magazine is free, register here: https://www.aftermarket.com.au/subscribe-to-emagazine/