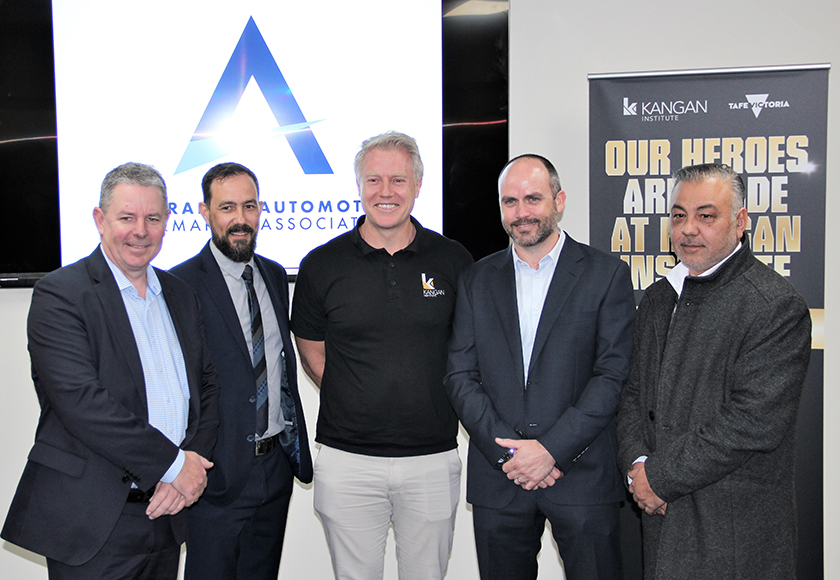 New 4WD Technician Course Designed to Support a Growing Industry
In an industry-first, the Australian Automotive Aftermarket Association (AAAA)'s 4WD Industry Council (4WDIC), and Kangan Institute have joined forces to develop a program specifically for the growing 4WD aftermarket sector.
The launch of the pilot program for the 4WD Accessories Technician Course, hosted at the Auto Innovation Centre (AIC) attracted over 60 industry representatives, 4WD business employees and Kangan Institute representatives, eager to be part of an important 4WD industry milestone.
The program represents a huge step forward, establishing a benchmark qualification that recognises the entry-level skills required to work in the 4WD industry. The course uses a blend of mechanical units, accessory fitting and electrical units and culminates in a Certificate II in Automotive Service Technology. Students will benefit from additional, exclusive 'industry sessions' specific to the 4WD modification and accessory industry. The course also creates a pathway for further education for students who wish to go beyond Certificate II.
The Australian 4WD Industry is a $6 billion industry comprising more than 2,000 businesses and employing over 70,000 Australians, so producing a tailored 4WD training pathway is a worthwhile and timely exercise.
"Our own AAAA research, along with recent market performance, clearly shows the Australian 4WD industry is booming. The sector desperately needs an ongoing supply of the right skills in the industry, to keep growing and to meet consumer demand, said Stuart Charity, CEO of the AAAA.
"An industry-led solution was required. The 4WDIC committed to developing a nationally recognised qualification that is relevant to the type of work undertaken in a 4WD accessories business. After a great deal of hard work by so many, to be here launching the pilot program is a great moment for our industry," said Ben Lavis, 4WD Industry Council Chairman, and 4X4 Strategy & Business Manager at GPC Asia Pacific.
Forming a partnership with Kangan Institute was crucial to bringing the program to reality. "Kangan Institute has been instrumental in guiding us through the process to develop a program that would meet the immediate needs of the industry, with the flexibility to adapt and grow as we moved forward." said Lavis.
The 4WD Accessories Technician course pilot program will run during 2021. There are only 2 spots left. To enquire about enrolling, contact info@aaaa.com.au or (03) 9545 3333.
Continued industry involvement is critical for the ongoing success of this course. We encourage any 4WD organisations wanting to contribute to the exclusive industry sessions to contact Nigel Bishop on 0499 001 920 or nigel@aaaa.com.au
For more information on the course, including an overview on the course content, please visit https://www.4wdcouncil.com.au/resources/4wd-accessories-technician-certificate/