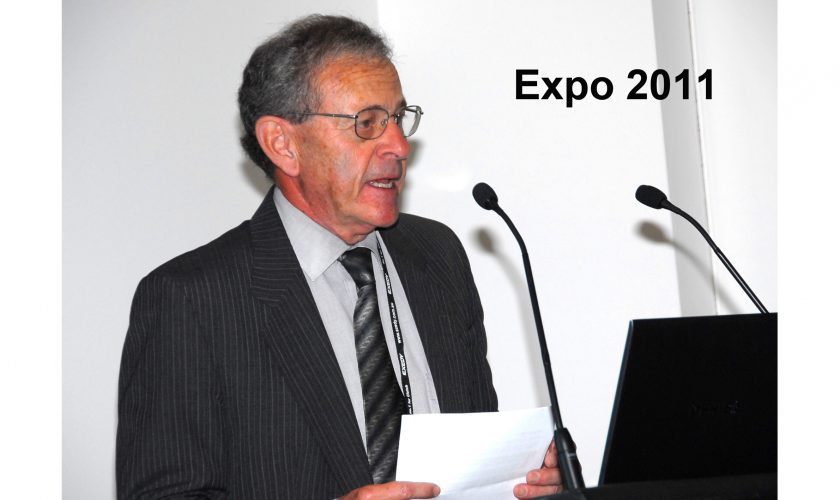 Retirement of AAAA Communications and Media Adviser Barry Oosthuizen
The recent AAAA Expo in Melbourne, marked the final chapter in the long and distinguished career of AAAA communications and media adviser Barry Oosthuizen who made the decision to transition into a well-earned retirement at the conclusion of what was another highly successful Event.
Barry's communication career was predestined when he was appointed editor if his high school newspaper in the USA. He won a scholarship to the University of Missouri School of Journalism, but had to move with his family to Brisbane where he then attended the University of Queensland and gained a cadetship at the Brisbane Courier Mail newspaper. He drove a 1949 MG TC at uni.
A short spell in the  Parliamentary Press Gallery in Canberra with AUP wire service led to chemical and plastics giant ICI Australia bringing Barry to Melbourne to join their PR department. He drove a 1968 MG B then.
Barry and Jo married in 1972 and soon headed to San Francisco where they both worked for almost three years. They enjoyed a contrasting car collection there having two 1960 vehicles in the car port – a VW Kombi Bus and a Ferrari 250GT Pinin Farina Coupe.
On returning to Australia Barry joined one of the world's largest advertising and PR companies – J Walter Thompson.  This role brought him into the world of consumer goods marketing working on brands such as Kellogg's, Glad Wrap, Eveready Batteries, Australian Dairy Corporation, Rheem and others.
J Walter Thompson spring boarded Barry and his then boss into a new business partnership. They became partners in HO&A PR for 10 exciting years adding to the brand portfolio with Dulux, Uncle Toby's, Pampas Pastry, Plumrose, Yoplait, Telstra and more.  The partnership split only when Barry's partner became ill. Barry sold his share of HO&A PR into Clemenger Advertising.  By now Barry and Jo had three MGs and he had started racing.
After a few years Barry realised the future was limited because his surname was not Clemenger. He decided to move on taking a contract with the Confederation of Australian Motorsport to set up a marketing division.
From there Barry set up as an independent consultant with wife Jo as CFO and CDB (chief of data base). He took this opportunity to redirect his client base from consumer goods to manufacturing and corporate affairs. He worked for Vic State Electricity Commission, Victorian State Treasury, Orica and subsidiaries Chemnet and Marplex, Qenos, Intelligent Transport Systems Australia, Atofina chemicals and plastics, Dassault Systemes engineering software, Victorian Employers Chamber of Commerce, Boss Polymer Technologies, and the Society of Automotive Engineers – Australasia.
It was at SAE-A in 2004 that Barry first met the then SAE-A Executive Director Stuart Charity. He joined a week or so after Stuart and they have worked together ever since.
In his 11 years as AAAA Communications and Media adviser Barry was responsible for all media and public relations activities for both the Association and the Australian Auto Aftermarket and Collision Repair Expos.  During this time Barry assisted the AAAA to effectively communicate its key messages to industry, Government and other key stakeholders and has made a huge contribution to the respect and standing the Association now enjoys as the voice of the Australian Automotive Aftermarket in Australia. He was also instrumental in building strong and mutually respectful relationships with trade and mainstream journalists.
Along the way he has won a number of communication awards and was a director of the American Chamber of Commerce in Australia and Committee member at the Melbourne Chamber of Commerce.
Giving back to his industry, Barry has been State President and National Councillor of the Public Relations institute of Australia, Founder of the Australian Society of Business Communicators, written public relations degree courses for RMIT, Monash and Deakin Universities, taught commercial writing and marketing to hundreds of their students and sat on many course advisory committees.
Jo and Barry are close to their two sons Kael and Tait and are thoroughly enjoying their first grandchild – Tait and Annika's daughter Minna. Creating native gardens is a shared passion and they are now finishing off their fourth one after moving to Mount Martha nine years ago.
And of course the garage is full of cars. Barry thanks the heavens that Jo has supported his interest in classic cars.
The staff and National Council would like to express our gratitude to Barry for his service to our industry and wish him and his wife Jo good health and happiness in their well-earned retirement.
Barry's role will be filled by the highly respected public relations and communications executive Paul Marinelli.