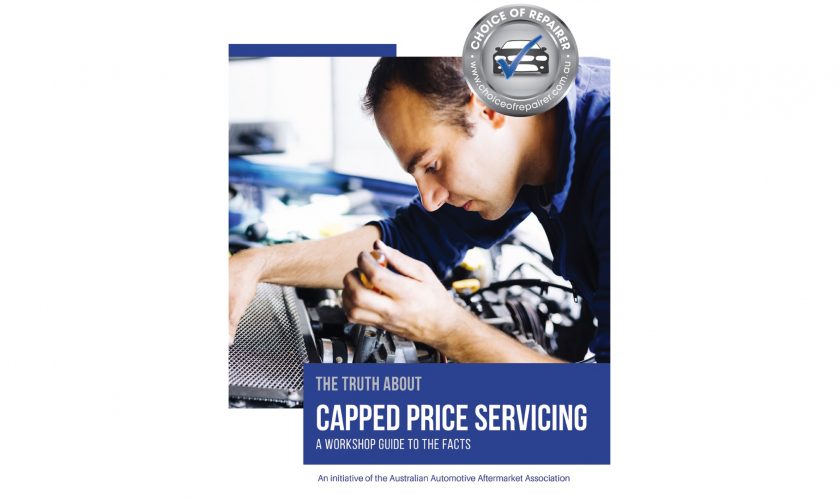 AAAA launches the 'Truth About Capped Price Servicing' brochure
The Australian Automotive Aftermarket Association (AAAA) has launched an information brochure titled The truth about Capped Price Servicing – a workshop guide to the facts to ensure independent workshops – and their customers – understand the facts about these car company offered packages.
This is the third part of a AAAA led national education campaign to place key facts about vehicle service and repair issues in the public forum. The first two information brochures covered the facts about new car servicing and about so called "genuine" parts.
Executive Director Stuart Charity said the AAAA Capped Price Servicing brochure aims to dispel some of the myths and spin perpetuated by the car industry. "This brochure presents the facts clearly and simply to educate consumers and to give independent workshops confidence in dealing with their customers," said Stuart Charity.
"These three brochures are part of the AAAA Choice of Repairer initiative. This is a member driven campaign designed to help protect consumer choice and advocate for fair competition in the car repair and maintenance sector," said Stuart Charity.
What is Capped Price Servicing?
Capped Price Servicing (CPS) is a routine maintenance program that purportedly offers new car owners a fixed or capped price on (some) servicing requirements, provided that certain conditions are met.
CPS plans are usually marketed as an enticement for purchasing a new car, although they are primarily used as a customer retention tool designed to keep service work and the purchase of parts and accessories within the dealership network.
Stuart Charity said many car companies use the term "Capped Price" to give the impression to motorists that such plans offer full transparency over pricing and superior value for money.
"In reality, this is often not the case. It is important that consumers carefully read the conditions involved in any CPS deal prior to purchasing a vehicle," he said.
"For example, vehicle owners may not be aware that the cost of a CPS program may be built into the purchase price of that car.
"In addition, many CPS plans do not cover critical service items as specified in the manufacturers own recommended service schedules. These services or replacement parts often come at additional cost.
"This is despite the services or parts being identified by the car manufacturer as essential to preserving the new car warranty, as well as protecting the resale value and life of the car," said Stuart Charity.
Exposing the myths
Stuart Charity said it is in the interests of every workshop owner, and the general automotive community, to provide factual information and to educate the motoring public to ensure that they are aware of their statutory rights with respect to buying and maintaining a new car.
"This Capped Price Servicing element of the AAAA campaign includes an educational brochure containing facts to help workshop staff answer some basic questions that their customers may have about CPS. It also contains vital questions that vehicle owners should ask before entering into a CPS plan.
"AAAA encourages all independent workshops and all vehicle owners to get the facts by downloading a copy of the "The truth about Capped Price Servicing – a workshop guide to the facts" at www.choiceofrepairer.com.au," said Stuart Charity.
CLICK HERE to download the 'Truth About Capped Price Servicing' brochure.
Before you sign – make sure the Capped Price Servicing contract says what you think it says!
The AAAA information brochure includes these vital questions that consumers should ask their new car dealer before entering into a Capped Price Servicing (CPS) agreement:
Is the service price actually capped for the life of my car, or can these prices be increased over time?
Does the CPS include a full safety check, or is this an additional charge?
Will there be additional parts and services required to maintain my new car warranty and if so, at what cost?
Is the CPS price built into the purchase price of the vehicle and if so, do I have the option of taking this as a discount off the sale price?
Does the capped price include all parts and lubricants that are required to be replaced on my car over the duration of the program, and if not, how can I be assured that these will not be supplied at an inflated cost?
How long am I locked into a dealer only service option under the CPS program and are there any penalties imposed if I miss a scheduled service?
Learn more about Capped Price Servicing, and get the facts about new car servicing and 'genuine' parts at www.choiceofrepairer.com.au.