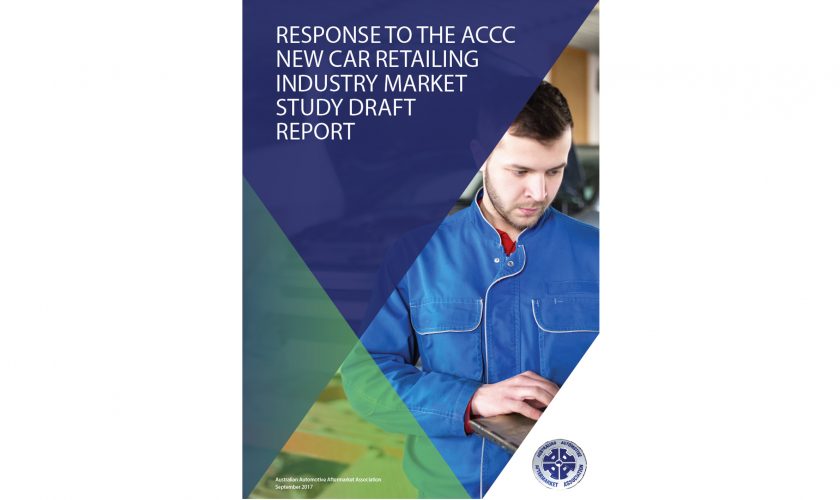 AAAA Response to the ACCC Draft Report into the New Car Industry
On Thursday 7th September we lodged our response to the ACCC preliminary findings and recommendations resulting from their 12 month study into the new car industry which was released on 10th August.
In this follow up submission we congratulated the ACCC on the methodology adopted for this inquiry and the content of the Preliminary Report. In our experience, a major obstacle to achieving an outcome on access to vehicle repair and service information was cutting through the confusion created by vastly opposing views on the existence, and the extent of the problem. The ACCC has managed to break a five year impasse by undertaking extensive primary research, in addition to a forensic review of a sample of the claims and counter claims.
The definitive conclusions made by the ACCC are welcome:
Sharing of vehicle service and repair information is critical to a competitive market.
Independent repairers have continuing problems accessing information.
The voluntary regime has not worked.
A mandatory scheme should be introduced.
These four key findings provide a foundation for a sensible public policy conversation about what mandatory mechanism would be appropriate for the Australian context.
While there is a great deal to like about the Preliminary Report there were a few areas of potential concern which have been addressed in this follow up submission. These include:
The practice of car manufacturers offering 'free' extended warranties that are bundled into the sale which have conditions placed on the choice of repairer and parts used.
The requirement for ongoing compliance and enforcement work to address the printed material and oral information provided at the point of sale relating to the choice of repairer and parts used.
Our concern over the recommendation to allow the FCAI to define 'security related' information and parts. Instead we again recommend the implementation of a NASTF style Secure Data Release Model to mitigate any security concerns.
Highlighting the critical role intermediaries such as data aggregators and aftermarket scan tool providers play in supporting independent repairers as well as the need to include J2534 pass through technology in the mandatory scheme.
Calling for a review of Capped Price Service programs to be included in the market study to address the issue of under-servicing.
Highlighting the suitability of this market study process to address competition issues arising from telematics.
Suggesting that the appropriate mechanism for this mandatory scheme is a prescribed code under the Competition and Consumer Act.
CLICK HERE to view our full submission.
In terms of next steps we, along with AAAA member companies GPC Asia Pacific, Bapcor, KTAS and Ultra Tune, will be participating in a stakeholder roundtable hosted by the ACCC in Melbourne on 25th September. The ACCC is scheduled to submit their final report and recommendations to Government towards the end of this year.