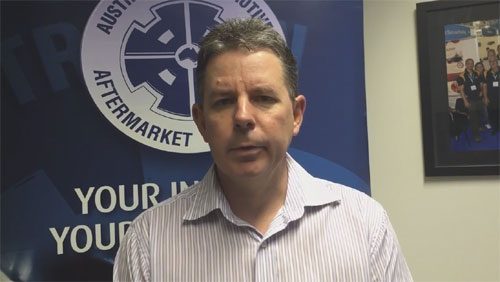 Government Delays on National Repair & Servicing Portal
The Australian Automotive Aftermarket Association (AAAA) today warned the lack of action on establishing a National Automotive Repair and Servicing Portal to protect the integrity, safety, training and cost control of car repair and servicing in Australia would ultimately cost thousands of jobs.
AAAA Executive Director, Stuart Charity, talks on YouTube about the National Interest and the threat to thousands jobs by Government delay.
The warning comes in a AAAA video briefing 'In the National Interest' being released today to the industry and Members of Parliament. 
Stuart Charity, Executive Director of the Australian Automotive Aftermarket Association (AAAA) said, "The establishment of a National Automotive Repair and Servicing Portal was the centrepiece of ensuring a strong competitive automotive repair and service industry in Australia.
The AAAA is calling on the Federal Government to take action and implement a policy that mirrors the US model to set up a National Automotive Repair and Servicing Portal.
"Given the fact that the same manufacturers selling cars in Australia are involved in the US portal, we believe the portal could be set up within twelve months with no cost to government as it would be funded by the industry."  
The European Union also has made it mandatory for all car manufacturers selling vehicles in the EU to provide all relevant information for repair and servicing on an Automotive Repair and Servicing Portal which can be accessed online by repairers for a fee.
"This raises the question why hasn't a similar and proven approach been taken in Australia, one of the most car dependent countries in the world.
"This is a $15 billion a year industry, with a network of some 25,000 independent car repairers throughout Australia employing 300,000 Australians.  The Assistant Treasurer and Minister for Small Business, Kelly O'Dwyer has responsibility for the issue and we believe has the power to introduce regulation that could establish a National Automotive Repair and Servicing Portal."
Mr Charity said opponents to setting up the portal have argued that it would infringe on manufacturers Intellectual property and independent repairers want the information for nothing.
"Both of these claims are wrong, as the Repair and Service Portals operating in the USA and in the EU have existing protocols and agreements in place between car manufacturers and repairers which explicitly protects manufacturers' intellectual property.
"On the cost issue, the AAAA has always represented that repairers will pay a fair and reasonable fee to access information providing manufacturers with an additional income stream."
Mr Charity said while opponents are claiming there is no need for a National Automotive Repair and Service Portal, the AAAA is being provided with an increasing amount of incidents daily that demonstrate problems for independent repairers in accessing vital vehicle repair and diagnostic information.
"Any Member of Parliament wanting to verify the extent of the problem should pick up the phone and randomly call a local repairer in their electorate and ask if they have trouble accessing car manufacturers' information."