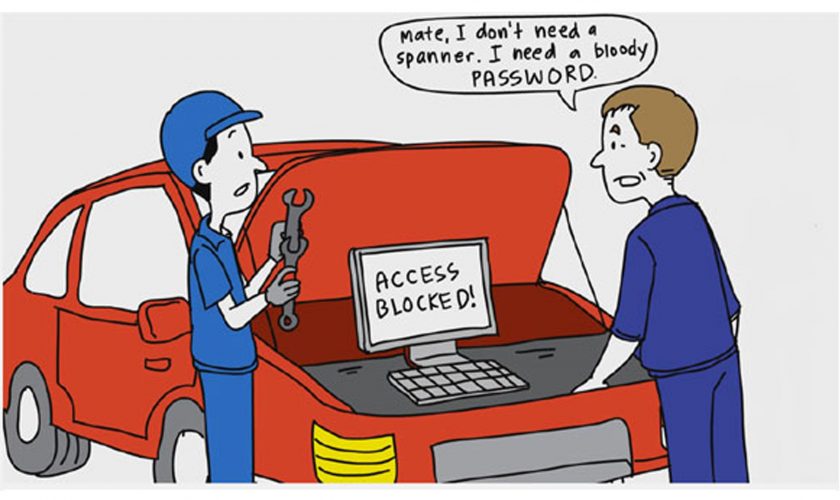 It's Your Turn to Help the Campaign – We NEED You!
CLICK HERE to see why the Federal Government should act!
In recent meetings, Federal Members of Parliament have commented on the value of hearing the stories from their own local automotive repairers about what is happening on a day to day basis including inconvenience for our customers, the waste of time, disruption to business and cost of not having access to data to diagnose and repair cars.
This cartoon and video clip has been designed for you to forward onto your Federal local of Member with you own message attached.
Whilst we have kept Federal Members advised of what's happening, it is vital for you to take some direct action by telling your many stories directly to your local Federal Member of Parliament .
A good starting point would be to simply look up the local MPs email address (contact us if you are not sure who that is) and drop them a line telling them of a recent event including the make and model of the car. Or you could do a quick calculation of how many hours a week is taken up by work arounds or chasing information from dealers or manufacturers and then multiplying it by 52 weeks.
It Is Important to keep your email short and to the point and make it personal, talk about your business, include the number of people you employ, if you have an apprentice and how many years you have been in business.
It is important that you send you letter by Monday 7th of March and would be ideal if you can send it off immediately to support the campaign.
CLICK HERE for an example of an email.
Could you please send a copy to us, or drop us a quick email telling us that you have contacted your MP?
The Voluntary Heads of Agreement for Data Sharing is now over 12 months old and it's time to tell Government that we tried it their way and it's not working – we need a mandatory solution, the same as Europe and America. Nowhere in the world does a voluntary agreement work. The car companies are not going to voluntarily share information even though we are prepared to pay a fair price for the subscription service.
We are doing all that we can, but there is no substitute for a broad-base campaign. When you write to your local MP you are writing as a local constituent and an employer. If drafting an email is time consuming, then just give your local MPs office a call.
Any and all approaches would be highly valued. To the repairers that have already written to their local MPs, we thank you sincerely – it's already making a difference and more people doing this will make a bigger difference.
It's your turn to help, please don't leave it up to someone else – we are closer now than we have ever been – all the signs are looking good if we can harness some more voices, we can help tip this our way.