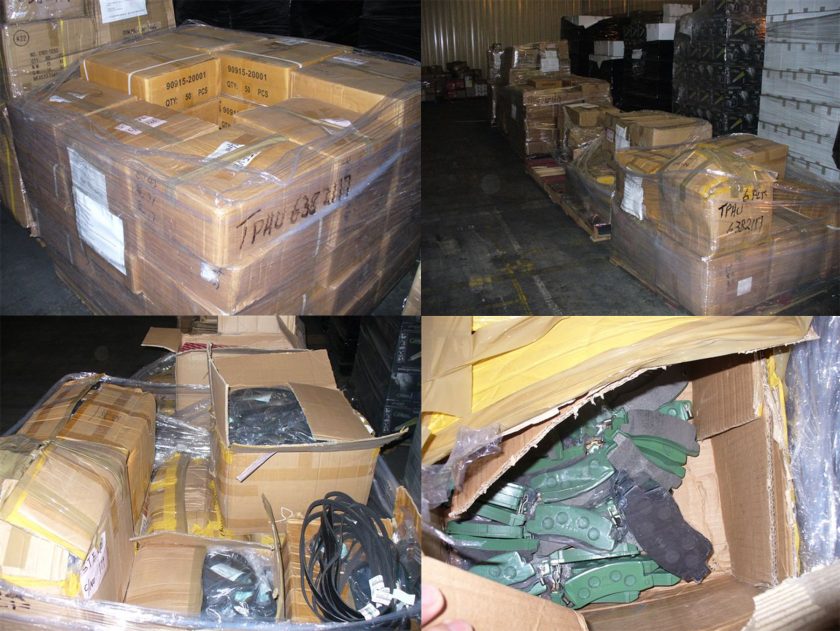 An opinion piece by Australian Automotive Aftermarket Association
Executive Director Stuart Charity.
The recent media release by the Federal Chamber of Automotive Industries (the lobby group for the car industry in Australia) under the heading 'New Seizure Shows Counterfeit is Out of Control' reports yet another seizure of counterfeit car parts, this time in the UAE, purportedly on their way to Australia and links this seizure to the tragic Easter road toll in Australia.
https://fcai.pressroom.com.au/press_release_detail.asp?clientID=6&prID=11076&navSectionID=2
This follows on from similar recent reports of seizures of counterfeit parts destined for Australia in Guangzhou and Abu Dhabi. In fact these seizures of counterfeit automotive parts allegedly "on their way to Australia" are being reported every couple of months via press release through the FCAI's Genuine is Best campaign which is managed by PR agency The Project Group.  It is interesting to note that this apparent 'flood' of counterfeit parts onto the Australian market started in 2015, not long after the launch of the Genuine is Best initiative.
In addition, the Genuine is Best campaign recently held a media briefing at Holden to warn of the dangers relating to counterfeit bonnets to suit VF Holden Commodore that are made of incorrect material and of inferior construction with potentially dangerous outcomes should they fail. The article goes on to highlight the assertions of the FCAI suggesting such issues are systemic of and exclusive to the aftermarket. "FCAI chief executive Tony Weber said Holden's testing had revealed 'another critical safety failing of a non-genuine part'.
As is always the case when car manufacturers and their nominated representatives make sweeping statements about the benefits of so called 'genuine' parts over parts sold by companies outside of their network, their position must be met with some scepticism. After all, there are some very compelling safety concerns raised in the latest press releases, however there are equally compelling commercial reasons for the FCAI to convince consumers that 'genuine is best'. So let's unpack the facts.
Firstly, the bonnets called into question are referred to as 'fake' or counterfeit. By definition this means they were being falsely represented as genuine, or more correctly as car company-branded. As defined in the FCAI's 'Genuine is Best' website, counterfeit parts are "illegal imitations sold as genuine parts. They may be stamped with serial numbers and the logo of the car or motorcycle manufacturer in order to deceive consumers into thinking they are genuine parts."
The articles then go on to refer to the bonnets as non-genuine or aftermarket. Aftermarket is not the same as counterfeit, also clarified on the 'Genuine is Best' website which states that aftermarket parts "are not produced by the car or motorcycle maker and have been produced by another company as an addition to existing equipment or an alternative to a genuine part."
So in the interest of open and transparent discussion of an apparent consumer safety issue, Holden and the FCAI should be very clear in their statements as to whether consumers are being misled by the supplier, or whether they are reporting a fault in a product which is legitimately being sold as an alternative to a car company-branded part.
The two are not the same and for Holden and the FCAI to use the terms interchangeably is, in itself, misleading.
To suggest that component failures are purely the domain of the aftermarket is clearly ridiculous. Less than 10% of product recalls of vehicle and auto parts over the last 12 months have been for aftermarket components. The remaining 90% relate to original equipment components.
Comparisons aside, the Australian system for recalls and rectifications under the Product Safety division of the ACCC is an effective means of maintaining product standards in the market in order to protect consumers. So if the part in question is an aftermarket part which has been manufactured to a sub-standard level, there are processes to deal with the issue.
The issue with articles such as these recent stories is one of truth and transparency. When the FCAI and car companies speak about 'genuine' parts, there is a clear and undisputable vested interest in convincing consumers that only a 'genuine' part purchased through the franchised dealership network can be trusted.
In a recent release by the Australian Automotive Aftermarket Association, the appropriateness of the term 'genuine' to describe car-company branded parts was called into question. As highlighted in the brochure entitled, 'The Truth About Genuine Parts', car companies outsource production of most vehicle components to third party manufacturers. These same companies often supply parts not only to the car companies, but also directly to the automotive industry supply chains as aftermarket parts. In many cases, the same part with the same part numbers and identifiers can be purchased in either a car-company branded box or the component manufacturer-branded box.
 The problem of counterfeit or 'fake' parts should indeed be taken seriously, however to suggest that counterfeit parts are the same thing as aftermarket parts (or to use the terms interchangeably) is misleading and potentially defamatory. Aftermarket parts are parts made by manufacturers other than the original equipment manufacturer.
High quality aftermarket parts will meet or exceed OEM specifications, providing consumers with greater choice in terms of affordability without compromising on performance. Many aftermarket manufacturers offer parts with superior characteristics than the original component, as is the case for many high performance and 4WD/commercial vehicle parts.
It is interesting that Ford US has just announced the release of the 'Omnicraft' brand – an aftermarket product range including oil filters, brake pads, brake discs, starter motors, alternators and suspension parts. According to Ford, "Omnicraft is part of the Ford family of parts brands: Ford, Motorcraft and Omnicraft. Omnicraft is the exclusive non-Ford/Lincoln parts brand of premium aftermarket parts."
So what exactly is the message here from FCAI and the car companies they represent? Aftermarket parts are potentially unsafe and unreliable and "fake", unless being sold by their agents in which case they represent "quality parts at a competitive price". The usual line we are fed about only 'genuine' parts being "rigorously tested by that maker as an integral component of the vehicle to meet high quality, safety and performance standards" is completely undermined by the fact that Ford now offer an aftermarket range to owners of non-Ford vehicles. Or are we supposed to believe that they were given access to other manufacturers' specifications, testing facilities and vehicles to develop this range? I don't think so!
It is easy to cherry pick a part of questionable construction and then make sweeping statements about parts of similar origin. However, this is a fallacious strategy. And to use such a fallacy to 'inform' consumers of the virtues of their members' products and the risks associated with stepping outside of their network under the guise of consumer safety is deliberately misleading and unconscionable. Not only does it deliver a false message to Australian consumers, it is damaging to Australian businesses.
Despite the impending exit of the car companies from the Australian manufacturing landscape, automotive manufacturing remains a thriving industry in Australia through our world-leading aftermarket manufacturers who are not only providing high quality components to Australians, they are exporting across the globe. In fact, Australian aftermarket components are universally regarded as some of the highest quality in the world, and our local businesses leverage this reputation to develop their export business into some of the most competitive markets, including low cost manufacturing regions such as China.
The truth is that all product types, in all categories sold in Australia are subject to protections under the Australian Consumer Law. From time to time products will fail to meet Australian Standards for one reason or another. In the automotive sector, this reality is not exclusive to aftermarket parts nor is it exclusive to car-company branded parts. This is why we have consumer protections and a system of recall and remedy.
There is absolutely no denying that parts quality will vary from brand to brand, as will price. There is also no denying that there are parts available that are of questionable quality, a fact which consumers should be aware of  (particularly when buying through unknown, online sources). With any product purchase, there are risks associated with buying based on lowest price, and best practice would suggest that consumers should insist on quality brands purchased through reputable suppliers.
The choice as to whether this equates to car company-branded parts or aftermarket parts rests with the consumer and they should be free to make this choice without duress. Consumers have a wide variety of legitimate choices when it comes to what parts are fitted to their vehicle. If you choose to buy car company-branded parts supplied through the dealership network that is a legitimate choice, backed by Australian Consumer Law (ACL) protections. If you choose to buy aftermarket parts through a reputable supplier, that is a legitimate choice, also backed by the ACL consumer protections.
This is the real consumer message here. Anything else is FAKE NEWS !
For interviews or further comments: 
Stuart Charity
Executive Director, AAAA – 03 9545 3333  / 0418 563 959
For any further media assistance contact Paul Marinelli, Marinelli PR – 0417 558 655.