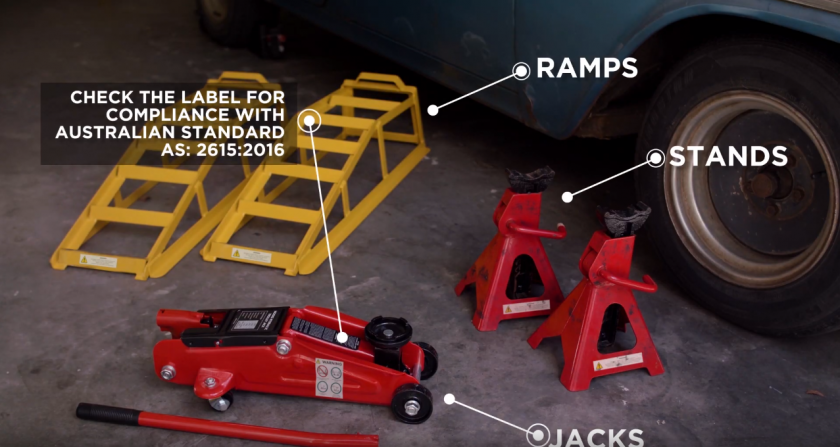 DIY Vehicle Safety Campaign Launched by ACCC
The statistics are alarming. Since 2000, around 120 people have died as a result of do it yourself (DIY) car maintenance accidents and many hundreds have been hospitalised due to injuries.
Research shows most fatalities happen when the victims are working under a vehicle and using equipment incorrectly, with many of the fatalities involving the use of vehicle jacks. Most of the fatalities were men aged between 40-49 and involved the vehicle being lifted or supported in the wrong way.
With this in mind, the ACCC has launched a new safety campaign reminding car enthusiasts to take extra care when repairing their vehicles and build awareness and provide advice on the correct, safe procedures for common DIY car maintenance tasks.
The ACCC has produced two videos as part of the campaign; the first provides tips on safely working under a car, and the second, a poignant reminder of the human toll of an accident involving DIY car maintenance.
A key campaign message is people should never get under a vehicle supported only by a jack, they should always use support stands or ramps, and chocks. There are however a number of simple DIY safety tips that can prevent serious injury or death.
Safety tips
Never get under a car that is only supported by a jack.
When working under your car, use a trolley jack to lift the car before lowering it onto vehicle support stands. Use vehicle support stands on a hard surface before working under your car.
Never place any part of your body under a vehicle unless it is sitting securely on support stands or ramps.
Never allow a person or pet to remain in the vehicle while it is being jacked.
Never exceed the weight capacity of the jack.
Always perform vehicle maintenance on steady ground, not on sand or a sloped surface.
Never use makeshift support stands such as blocks of wood or bricks.
Apply the handbrake in accordance with safety instructions.
Always 'chock' the wheels on a raised vehicle.
Follow product instructions and report faulty products.
When working on cars at your home or at a workshop, remember that safety is the number one priority for yourself and for others.
The AAAA fully supports this campaign and also encourages anyone who is lacking the knowledge or the correct equipment to instead engage the services of a professional automotive workshop or mechanic to undertake the maintenance/repairs.
For more information, please head to the ACCC website: https://www.productsafety.gov.au/news/diy-car-safety