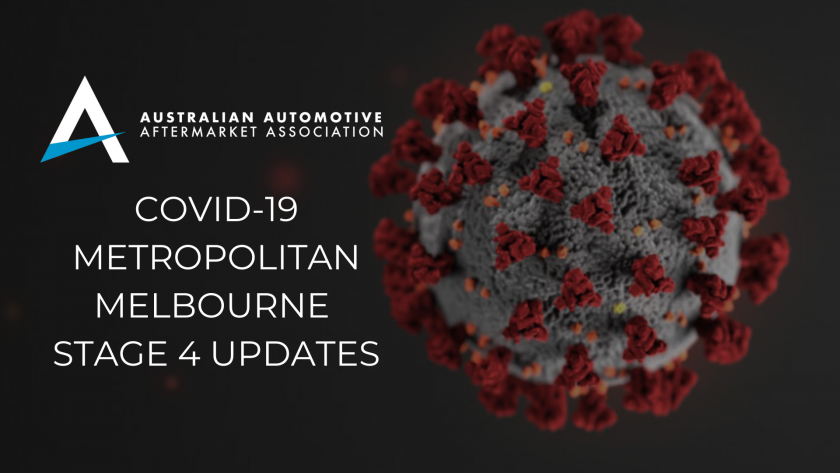 Checklist for Businesses in Stage 4 Restrictions
Melbourne's COVID-19 Stage 4 restrictions are in full operation and compliance is being checked. We applaud all of you who have responded so swiftly and responsibly to the mandated changes. It is now highly prudent for all members impacted by these restrictions to check they are Stage 4 compliant. That means checking that in the event of a government authority inspection, your business will pass and not be penalised.
In the process of making decisions for your business, ensure that your actions reflect the spirit and purpose of the Stage 4 restrictions; that is, to stop the spread of COVID-19 and restore the health and safety of our community.
As I advised members on 5th August, enforcement of the Stage 4 restrictions is likely to be comprehensive and I cannot stress enough that a 'business as usual' attitude is not going to work. The fines for non-compliance to the restrictions are significant and can be issued on the spot.
The government is introducing independent compliance reviews and site inspections. This process is being established to ensure worksites comply with the intent of the order and can provide independently verifiable evidence of their compliance during and after the restriction period. It is recommended you retain evidence of compliance even after Stage 4 restrictions are lifted. Every site permitted to operate under these restrictions must comply with Victoria State Government regulations. We have already seen several fines for not wearing masks issued in the workplace. Role model the right behaviour and don't let this happen to you.
Show that you are doing the right thing – check that you have the following prepared and evidenced in your workplace:
Ensure all staff on-site understand the message that automotive repair and maintenance is permitted to operate where providing support to a permitted service or industry or where required to maintain the health and safety of Victorians at home or at work. This is different to 'we're open' which by itself is a misleading statement that does not reflect the purpose and intent of the Stage 4 restrictions. It is important that businesses recognise the difference in these messages and implement an operating model that acknowledges and respects the correct wording and its definition.

Have a door sign. The entrance to your business is the first point at which you can communicate that you are aware of the Stage 4 restrictions and have duly responded to them. We have produced a Workshop Door Sign and Warehouse & Distribution Door Sign for permitted businesses that remain operational for onsite business, to display they are legally able to remain open. Complete this template with your details and print it out for your business premises

Have a COVID Safe Plan if there are over 5 people on site. COVID Safe Plans are an essential part of operating in the Stage 4 Restrictions. Members can see more detailed information about implementing this in the AAAA Member Portal. There are 3 COVID Safe Plan resources available COVID Safe Plans – 4 Aug, Business Victoria COVID Safe Plan – Form Guidance and Business Victoria COVID Safe Plan – Form Template. Part of a COVID Safe Plan is to have a visitor register. You can use the Workplace Attendance Register Template. A visitor register is required for every business, even if you are under 5 employees.

Wear a mask and have your COVID-19 hygiene and social distancing practices clearly visible for anyone entering the premises. See our COVID-19: Safety and Compliance Check for Employers. Members can access exclusive and price competitive mask procurement and deep clean providers via the Member Portal.

Ensure that everyone who could be working from home is doing so. Ask yourself for every on-site role if that role would stand the test of inspection questioning. Regarding reasons to travel to work, the fines for misleading work permits are penalties of up to $19,826 for individuals and $99,132 for businesses – these penalties can be imposed on employers who issue worker permits to employees who do not meet the scheme's requirements. There are also on-the-spot fines of $1,652 for individuals and up to $9,913 for businesses. These can be issued to those who do not carry their permits when travelling to and from work. We have provided the list of DHHS – Permitted Work Premises and the Permitted Worker Permit Form for your reference.

Communicate the details of how your business is complying clearly and consistently to all your team members. Role play a conversation from 'the shoes of an inspector' visiting your business. You know that an assessment of compliance starts with what they see before they walk in your front door and you know that they can speak to anyone in the business. Remember point 1, you are a permitted business not an open business. Can your team members demonstrate and express, simply and quickly, what makes them 'permitted' in the context of the restrictions? Using a script can help with this, see our Script Guideline for Verbal Customer or On Site Visitor Enquiries.
Many businesses within the automotive aftermarket are currently operating with the privilege and responsibility of serving their communities, to maintain the health and safety of Victorians at home or at work. An inspection of your business's compliance to Stage 4 restrictions is an opportunity to show how you are helping to eliminate COVID-19 and running your businesses safely and responsibly. It is also an opportunity to show your staff and customers the hard work and commitment you have made, for their benefit too.
About Australian Automotive Aftermarket Association
The Australian Automotive Aftermarket Association is the independent national body representing and supporting the automotive aftermarket industry. AAAA members are manufacturers, suppliers and retailers of automotive parts and accessories, tools and equipment and providers of service, repair and vehicle modification. To learn more about the AAAA head to www.aaaa.com.au